Hi everyone! I hope you're having a wonderful weekend. I just wanted to remind you about the Organization for LUFFs (Lazy, Uninspired, Frugal Folks) party that will begin at 9pm (CST) tonight.
That gives you approximately 9 hours and 14 minutes to put the final touches on your organization project....or to pull an old one from your archives. Any organization project will do. I'm just looking forward to sharing organization ideas with one another.
I'll also reveal my finished multi-purpose guest room.
Here's a party button for you: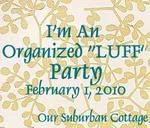 See you tonight!