I hope I didn't sound too down on organization in yesterday's post. The truth is, I LOVE an organized room . Having your home in order makes you feel like your LIFE is in order. It's such a stress reliever.
So, as promised, here are the BEFORE photos of my all purpose guest room (AKA "the dumping ground"). Granted, these photos are the equivalent of showing y'all what I look like first thing in the morning…but I'm doing this for the sake of the project (ahh, the things we do for our blogs). So without further adieu:
Hopefully these painfully real photos will make the end result even more dramatic – and let you know that if you have a room that's out of control you're DEFINITELY not alone.
Have a great day!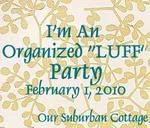 Click here to read Post 1 of the Organization for LUFF's Series.