Oh hi (I say sheepishly). I've been trying to avoid writing this post. Oh yes, you can bet your bottom dollar I've been trying to think of ways to weasel my way out of admitting that, while I'm hosting a linky party next Monday on organization (please say you be there), I've been carpeing that diem a little too much and have really kind of failed miserably at organizing my guest room as well as I should have by now. True, of all the things to beat yourself up about in life this is not one of them…but still. I HATE saying I'm going to do something and then not do it. Definitely one of my big pet peeves.
I have shown you here and here and here how to get rid of stuff, but I haven't exactly shown you where to go from there. So I'll make a little effort to do that today.
See this lovely thrift store file cabinet in the back of my car? I got it for a steal. I love the functionality of a real file cabinet and you can find them easily at thrift stores or on Craigslist.
There are really fun, decorative file folders out there in patterns I love. I've seen some really cute ones at Target. I'm the cost conscious manila folder kind of gal, though. You can get a package of a zillion at your local office supply store really inexpensively…and really, it's a file folder not a decorative pillow, right? You can get 100 8-1/2 x 11 manila file folders at Office Depot for $6.29. That's what I'm talkin' about.
And as far as putting files in a filing cabinet? Well, I like to go with alphabetical order…but that's just me. You could also get fancy color coded files for different categories like home, car, taxes, and different family members.
I'm also a tad lazy about making my own labels, and instead just hand write the file name on the folder. I hear these fancy schmancy (and relatively inexpensive) label makers will change your life though. I do secretly want one.
If you don't have room for a "real" file cabinet, I loved this idea from Centsational Girl. She purchased file boxes from Target ($5 each) and devoted each box to a specific category. The bonus of this idea is that you can easily see what's inside each box…and if you do buy those pretty file folders you can admire them from time to time :).
I cross-my-heart, hope-to-die, stick-a-needle-in-my-eye promise that I will reveal my fully organized guest bedroom next Monday, for the organization party. And for the record, you're welcome to link up any organization project. I just think it would be a great way to share organization insights with one another.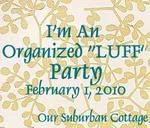 Tune in tomorrow for an awesome GIVEAWAY!
Have a great day!