I have been tagged by Ellie over at
TheTwinsMama
to share some information about myself and Amanda at
Serenity Now
to list 7 things I love. So I'm kind of going to combine both into one - I hope that's ok.
7 Things I Love:
1. Dessert
- Anything with chocolate, peanut butter, cream, crust, pastry = heaven. Fortunately for my snug little jeans, I don't indulge very often.
(Tollhouse Pie at the Dodo in Salt Lake City...To-Die-For!)

2. Mexican Food - I could eat it everyday. I love anything with cheese, sour cream and a flour tortilla. Again, good thing I don't let myself eat it everyday (Um, should we be concerned that my first two items are food?...I'm just sayin').

3. Almost anything from Banana Republic or Anthropologie - Really, can you blame me?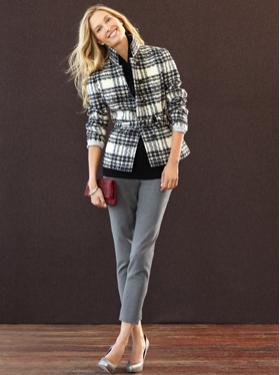 4. Movies - I love movies. I could go every week. I like anything from spy movies, to historical movies, to chick flicks. I don't like anything disturbing though, which pretty much leaves horror movies or anything nominated for an Oscar out....just kidding...kind of.

5. Travel - I love seeing new places. It doesn't matter if it's The-Middle-of-Nowhere, Oklahoma or Europe. I love seeing how other people live.

6. Music - I always have to have music near me. It doesn't matter if I'm cleaning, getting ready in the morning, in the car, at work (when my boss isn't there)...I love music.

7. Hanging Out With My Boy - Ok, that's a little pathetic, but we have fun together.
( He really is happy, he's just trying to look tough.)

7 Things I Don't Like:

1. Waking up Early - I'm definitely NOT a morning person, but I do it anyway.

2. Wierd Seafood - I have a reluctant relationship with seafood. I'll eat it if there are no claws sticking out, or a face on it, and if it's cooked....and I won't eat shrimp. It looks like a bug to me.

( Um, do you see that wierd claw thing sticking out? Yeah, I'm not into that.)

3. Cooking and Grocery Shopping - I do it anyway, but I'm really not into the whole food gathering, planning and preparation thing. It's so much work! It's much easier to eat out. Honestly, the whole food aspect of our lives stresses me out. Do I really need to bring home the bacon and fry it up too? Really?!

4. Walmart - I have a love/hate relationship with Walmart. I love the low prices, and hate everything else about it. Sorry Walmart.

5. Things that I Love but Can't Afford - I know, who doesn't feel that way, but I had to say it.

6. Things I Don't Love and Can't Afford - Ahhh, don't we all love car repairs?

7. Being Away from My Family - I really miss going to breakfast and shopping with my mom, and I really miss hanging out with my dad on Saturdays.