Thanks so much for all of your comments on
yesterday's post
. Y'all were cracking me up. I'm not even kidding.
I truly hope I didn't offend anyone with my list of what
may
go out of style in the future.
The last thing I want is for people to start looking around their houses and feeling like they need to replace everything because it maybe, might, could go out of style eventually.
PLEASE don't do that.
Enjoy what you have
. Keep things around that make you happy. I have no doubt that you'll know when there's a new hot trend and we're suddenly all making moss balls out of our birds...or something like that.
Okay, so in summary, y'all feel that the following things likely have a shelf life (by the way, I don't know why I keep saying y'all. I don't say that in real life. Anyway...):
Tuscan decor


Oil Rubbed Bronze (although I don't think black fixtures will go out of style...hopefully)


Birds


Burlap


Vinyl decals/Wall sayings ("The family that picks hay together stays together"...or something)


Distressing (maybe)


Stenciling Letters or Numbers on Everything (say it ain't so...I really like this trend)


Chalkboards (my fave comment "we'll all wonder what we needed all those chalkboards for"...ha!)
And may I say that I am so grateful that you all disagreed with me about beadboard going out of style. Truly! I've had a fear of committing to it in case it's passe in a few years, so I LOVE that you all feel it's classic. I believe you and I whole heartedly agree with you. Mwah! (I just gave you a big kiss)


So let's talk about things that have staying power
. In my opinion the big items in your house (furniture, flooring, etc) should be like the equivalent of classic wardrobe staples; i.e. a simple black dress, chinos, a white t-shirt and jeans. As trends come and go you can switch out accessories, but the staples always look good.
For instance, remember Top Gun? It came out in 1986, and Tom Cruise and Kelly McGillis would still look fashionable today.
Meg Ryan and Anthony Edwards....not so much.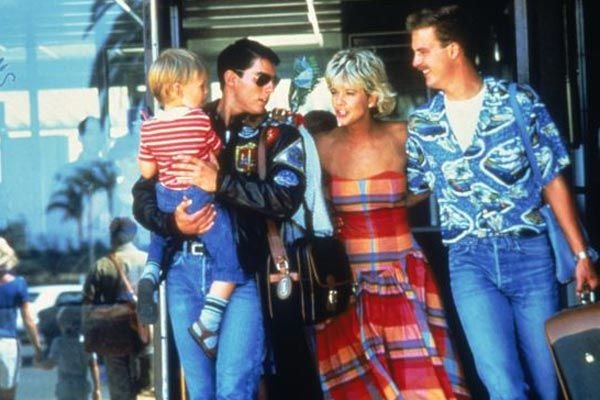 How does that translate into decor? Here are a few ideas:
Try not to buy furniture "sets". Let your furniture collection grow over time. I've personally broken this rule by having a matching sofa and loveseat...oh, and they're microfiber...but you know....whatever :-).


Neutrals are always timeless. We may eventually get tired of beige walls, but tan, grey, black and white will always be classic.


I'm going to say that pretty much any architectural element is timeless; i.e. wainscoting, moulding, etc. They've been around a very, very, very long time. It's hard to imagine them going anywhere.
What do you think? Do you have anything to add to this list?

Have a great weekend!