Okay – I'm perfectly, totally, completely content with not having a daughter. I am completely, indubitably ecstatic with my life, my son, and never having to change diapers again. Truly. But since I showed you a nursery I created the other day for a reader, I thought I'd show you how I would decorate a nursery myself if I had a daughter…which, again, I'm totally, completely happy not to have. Ack…let's just look at the pretty picture, okay?
I'd start with some Amy Butler fabric, including her Lime Primrose fabric from the Nigella Collection, her solid coral fabric, and her Lime Polka Dot from the Lotus Collection. I'd probably do the crib bumper in the floral green primrose fabric, and then have accents in the other two fabrics. I'd also add and edge of coral fabric to some simple white drapes.
I'd paint the walls Sherwin Williams Rice Grain (6155). It looks kind of mushroomy in the picture (at least to me), but in person it's a nice, light yellowy, greenish tan.
I'd include an elegant crystal chandelier. I love this one from Overstock with a white shade.
I'd probably add crystal knobs to a white dresser to coordinate with the chandelier, but I kind of like these green knobs from Anthropologie too.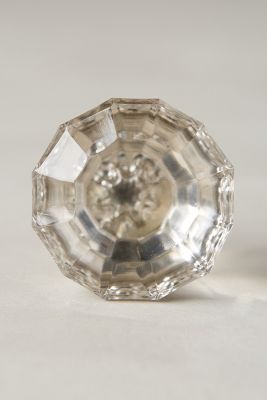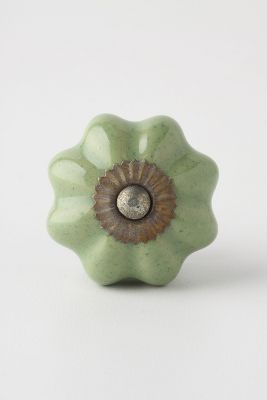 Finally, I'd add a nice slipcovered glider like this one from Pottery Barn Kids ('cause if we're pretending I have a baby we can pretend I have money too, right?). Uh hum....I used to have a picture here, but Blogger sucks. Just follow the link, k?
Have a great weekend!